The following photo is a map of the Los Angeles Metropolitan Area broken down by gang affiliation. The green dots represent misdemeanor arrests, and red dots represent felonies arrests carried out by Detective Ryan Lopez of the Los Angeles Police Department. In nineth episode of this season entitled "Dia de Todos los Santos" (or "All Saints Day"), the Internal Affairs Detective Paul Carter (portrayed by Jay Karnes of "The Shield" fame), claims to have found a pattern that will lead to the identity of the mole within the department, who has been passing information along to the organized-crime group known as "Los Angelicos". Detective Carter claims that there are a disproportionately lower amount of arrest of members of the "Los Angelicos" gang by Ryan Lopez as compared to other gangs across the city.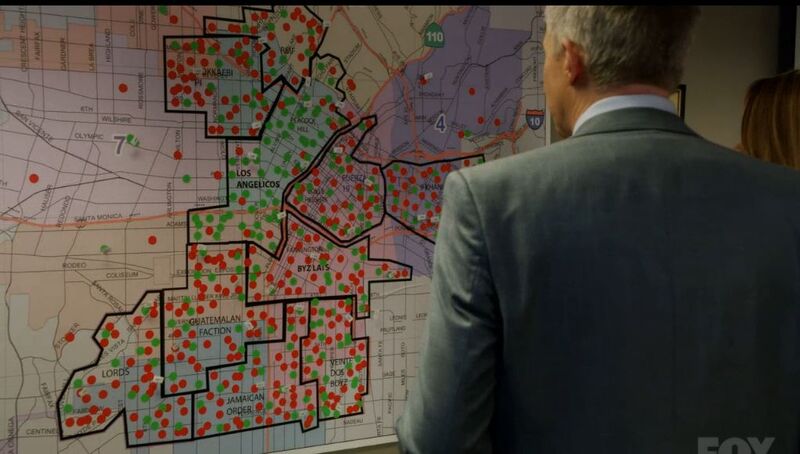 Other Wide-Angle Metropolitan Map(s)
Edit
Close-Ups of the Los Angelicos territories
Edit
Map of Special Interest
Edit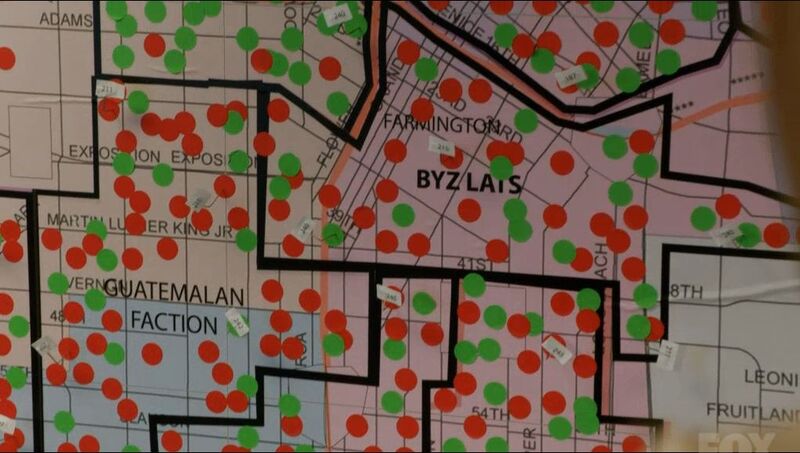 The Byz Lats of Farmington maybe a possible allusion to the Byzantine Latinos,a gang portrayed in the show The Shield
Ad blocker interference detected!
Wikia is a free-to-use site that makes money from advertising. We have a modified experience for viewers using ad blockers

Wikia is not accessible if you've made further modifications. Remove the custom ad blocker rule(s) and the page will load as expected.