Ryan Lopez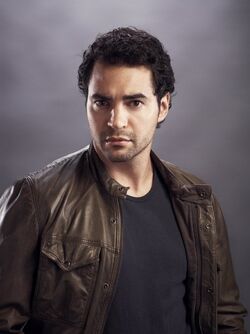 Appeared in
{{{Appearances}}}
Mentioned in
{{{Mentioned}}}
Family
Gustavo Lopez - Father
Detective Ryan Lopez is the main character in the Fox series Gang Related and a member of the LAPD's Gang Task Force. He is the partner of Special Agent Cassius Green.
Background
Edit
Ryan Lopez was born in Jalisco, Mexico in 1986. In 1992, Ryan's parents decided to emigrate to the United States, hitchhiking their way to the border from Jalisco. During the trip, Ryan's mother died from unknown causes, leaving him with his father Gustavo for the remainder of the trip. After successfully immigrating to Los Angeles, Ryan soon made friends with Daniel Acosta. Ryan and his father lived in peace until 1996, when Gustavo was murdered. Ryan was sent to live with friends of the family.
On the Fourth of July 1998, Ryan was hanging out with Daniel when Daniel's older brother, Carlos, interrupted them. Upon seeing Ryan's expensive watch, Carlos demanded it. When Ryan refused, the two engaged in a fistfight. The brothers' father, Javier Acosta, the leader of Los Angelicos, stopped the fight and commended Ryan for standing up for himself. Getting to know each other, Javier soon took Ryan under his wing and Ryan became to think of the Acostas as family. In 2004, Ryan underwent military training and later became a soldier in the U.S. Army. After three tours in Afghanistan, Ryan was honorably discharged and returned to Los Angeles. Intent on becoming a cop but unsure where to apply, Javier convinced Ryan to join the elite Gang Task Force, serving as a mole in the agency.
Memorable Quotes "Why go after the rook when we want the king"
Edit
"It was the only thing in my life that wasn't a lie" - Ryan to Jessica
Image Gallery
Edit